For a map view of my MTB tours in Valais, please follow this link. The routes are hereunder classified by alphabetical order.

Some sections of these tours follow single trails or narrow paths, where MTBs are not always welcome. Please, do respect nature and other users : avoid skidding, approach hikers at very slow speed, inform them early enough that you're coming (ring your bell or greet them) and politely ask for way. Remember that hikers always have right of way on any single trail that is not an explicit MTB-trail. A responsible attitude of MTB riders will help in keeping the mountain accessible to all – thank you !
---
Arbey Lake & Alpage de l'Etoile ; MTB loop starting in the village of Mase (Val d'Hérens) and leading into several mountain pastures and hamlets : Volovron (1740 m), Arbey (nice little lake, 1770 m), La Gietta (grazing yaks, 1770 m), La Niva (2122 m), L'Etoile (2190 m). Nice views on the Dent Blanche (4357 m). Surfaced roads, forest tracks and single trails. Distance : 59 km / Time : 5 hours (plus stops) / Climb : +1650 m / Max altitude : 2190 m / Min altitude : 1114 m / Average slope (climb) : 7%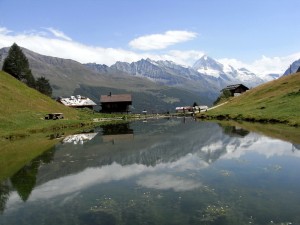 ---
Arbey Lake & Arolla Glacier ; same route as in previous tour until La Gietta hamlet, then heading towards upper Arolla Valley on main road. Lights will be useful, as we cross several tunnels protecting the road against avalanche hazard. In Arolla, we drive through the first big parking for skiers and continue on a small surfaced road until a concrete building and a power station. From there, the track continues unsurfaced, but remains in good condition all the way until the little bridge over the stream. Then it's a bit tougher, due to steeper slope and rocky track, and we end up pushing the bike until the last signpost close to the foot of the glacier. Leave your bike here if you want to walk further to the glacier (15 minutes one-way). Great mineral alpine panorama ! 73 km / 5 hours / +1800 m / max 2150 m / min 1114 m / average 7%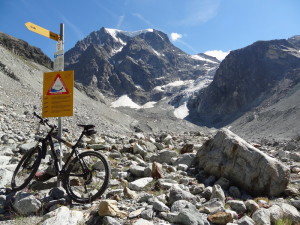 ---
Arolla – Fontanesses – Pra Gra ; this short MTB tour climbs in a very mineral environment to the highest ski lift station of Arolla. The track is often rocky and very steep (up to 25%). You'll meet hikers and cows in the lower half, and around Pra Gra, but not anybody in the upper part. Great panorama on the top : Pigne d'Arolla (3796 m) and its glaciers, Mt Blanc de Cheilon (3870 m), Aiguille de la Tsa (3668 m) and many other summits. Return via a very wet path under Pra Gra. 18 km / time not recorded / +1000 m / max 2875 m / min 2005 m / average 9%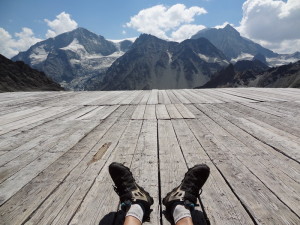 ---
Bisses de St-Martin and Tsa-Crêta ; short loop at mid-altitude with multiple sections in gentle descent on rolling single trails – in the Fourmic forest, as well as along the 2 mentioned "bisses" (traditional irrigation channels). Some steeper sections with tree roots along "Bisse de Tsa-Crêta" can be very slippery when wet. Note that there are sometimes lots of hikers and families along both "bisses" and that you should avoid riding there on sunny week-ends and public holidays. 25 km / 2h15 / +750 m / max 1810 m / min 1340 m / average 8%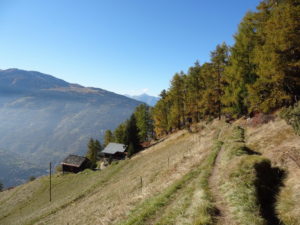 ---
Bisse de la Tsandra ; short MTB tour on the right bank of Rhône river, above Conthey. Starting in Erde, we climb on surfaced roads to Aven, where we join the single track along the "Bisse de la Tsandra". "Bisses" are traditional mountain irrigation channels. Famous in Valais, many of them have been maintained for tourism purpose, as they provide nice footpaths – although the ones crossing rocky terrain and cliffs can be very vertiginous. La Tsandra is an easy one and we can ride all the way except a few hundreds of meters, when the bike has to be pushed on a narrow low wall. 24 km / time not recorded / +600 m / max 1375 m / min 785 m / average slope not recorded.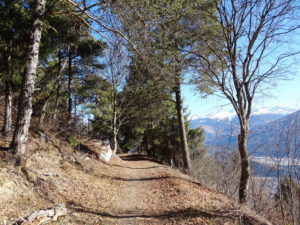 ---
Bisses de Varone et de Clavau ; easy ride on the arid slopes of the Rhone's right bank. A 6 km long climb brings us to the first single trail which runs along the "Bisse de Varone" (Varen in German). There are many tree roots on some sections and we may have to push the bike here and there. Then we ride through the vineyard on quiet surfaced roads, first in descent to St-Léonard, then climbing again to reach the "Bisse de Clavau". The last part of this tour runs on high stone walls through the vineyard of Sion and we have to push the bike, as any fall could have dramatic consequences. The footpath along "Bisse de Clavau" is very popular, so avoid coming here on sunny week-ends and make sure you dismount your bike when meeting people on foot. 39 km / time not recorded / +800 m / max 1050 m / min 491 m / average slope not recorded.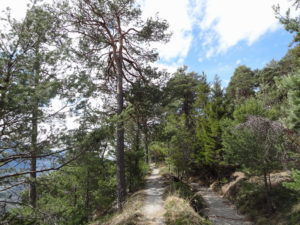 ---
Col de Cou – Nax ("the Brazilian") ; the 1200 m climb from Mase starts on a surfaced road and continues on a good forest track above Tsa Crêta, at 1650 m. There's a café at the alpine pasture of La Louère, serving food and drinks in summer, as well as renting rooms. At La Combe, part of Nax-Mt Noble ski resort, we leave the track for a single trail climbing towards col de Cou. The bike will have to be pushed on most steep sections. The descent towards Nax follows the single trail known under the nickname "the Brazilian", where the bike can be riden all the time, except on some short steep/rocky/hollow sections. Please, give way to pedestrians on single trails and note that mountain bikes are not allowed in the Réchy Valley, beyond col de Cou, as it is now a nature reserve. 25 km / 3h15 / +1250 m / max 2528 m / min 1230 m / average 10%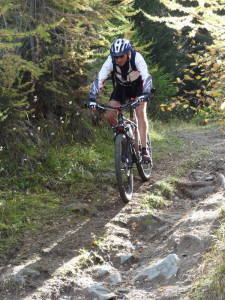 ---
Essertse ; this time we climb the western slopes of Hérémence Valley towards Essertse mountain pasture, not very far from Thyon 2000 ski resort. Beautiful panorama and little lakes at the top. Surfaced roads, forest tracks and a short section on single trail on the way back (Euseigne to Praz-Jean). You might find some food and drinks at the mountain refuge in Summer. 59 km / 4h45 / +1900 m / max 2350 m / min 990 m / average 8%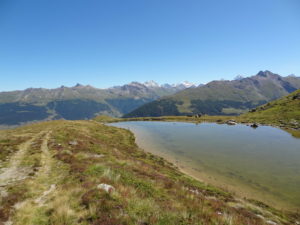 ---
Ferpècle & Mt Miné glacier ; another beautiful tour leading to a glacier in the upper part of Herens Valley. From La Forclaz, the narrow surfaced road goes as far as the little reservoir overlooking the hamlet of Ferpècle / Le Salay (hotel restaurant & bus terminus). The unsurfaced track further up is in good condition and the slope remains moderate until the vast alluvial plain where it becomes a single trail. Altitude is 1960 m and if you want to walk to the glacier (45 minutes one-way), you have to leave your bike as the path crosses several chaotic screes. Great view on the Dent Blanche. 62 km / 4h50 / +1680 m / max 1960 m / min 1340 m / average 8%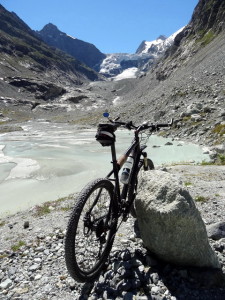 ---
Grand Raid Hérémence – Grimentz ; this is the official route of the shorter version of the famous Swiss Moutain Bike Race Marathon, to which I participated for the first time in August 2015. I enjoyed it very much and those reading French may have a look at this article (photos included). More information on the official Grand Raid website. 68 km / 6h30 / +2800 m / max 2792 m / min 1240 m / average 9%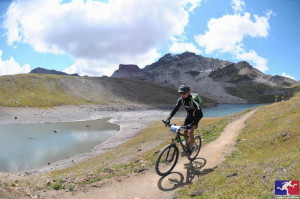 ---
Grand Raid Verbier – Grimentz (full) ; from Verbier to Grimentz along the Grand Raid route. The Grand Raid race is held each year in August and attracts thousands of bikers. The winner of 2013 edition reached Grimentz in just 6 hours and 8 minutes ! But this long and tough ride may also be enjoyed in 2 days, like I did, overnighting at Hérémence (halfway). Those on a tight schedule should ride the second part, starting at Hérémence, as it's much nicer (and challenging) than the first part. Photos of the second part in this article and short slideshow here. 128 km / 13 hours / +5025 m / max 2792 m / min 1200 m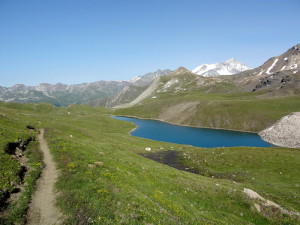 ---
Grande Dixence ; MTB tour towards the highest gravity dam in the world (285 m), built between 1953 and 1961 in the upper part of the wild and beautiful Val des Dix. Steep climb on a good forest road starting at La Luette, followed by a narrow and sometimes eroded path along the abandoned "Bisse de l'Erneya", of which the second part is sometimes tough with sections where the bike has to be carried over big rocks – be careful, risk of fall ! This difficult stretch can be avoided by staying on the forest road, which runs higher and then down. Shortly before Pralong, highest village in the valley, we join the surfaced road that climbs to the foot of the dam through several sharp bends and a short tunnel. At Dixence, there's a kiosk, restaurant, little museum and tourist information desk. If you want to climb to the top of the dam (2365 m), you can either take the cable car or walk, as cycling further up is not allowed. 57 km / 4h30 / +1800 m / max 2141 m / min 990 m / average 8%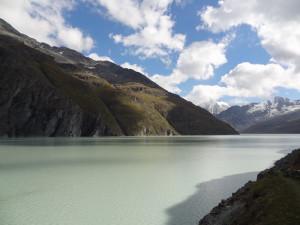 ---
Hérens – Anniviers loop ; long loop across two valleys, following two official routes : first the Grand Raid between Eison and Grimentz, then Valais Alpine Bike track (Switzerland in MTB, itinerary 43) all the way back to Mase, except at the very end. The bike will have to be pushed most of the time from L'A Vieille to the Lona Pass (2787 m), a 50 minutes steep climb. After Grimentz, we ride on a very comfortable and almost flat forest track until Vercorin, where we're back on a low traffic road. 67 km / 6 hours / over +2200 m / max 2792 m / min 910 m / average 9%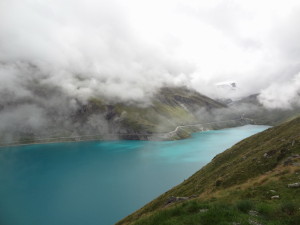 ---
L'A Vieille ; short and easy MTB tour on the eastern slopes of beautiful Hérens Valley, via the villages of St-Martin and Eison, where the more serious climb to L'A Vieille (mountain pasture) starts. Surfaced roads, forest roads and single trails. 32 km / 3 hours / +1100 m / max 2370 m / min 1340 m / average 7%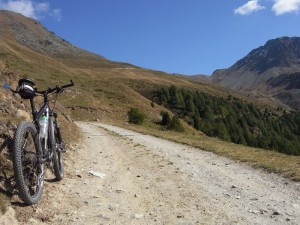 ---
L'A Vieille – La Louère – Nax ; same start as previous tour as far as Lovégno, but then continuing towards La Louère via a single trail where the bike has to be pushed on some sections. Back on the track near La Louère, we climb to La Combe, which is part of Mt Noble ski resort and where we find the famous single track known as "the Brazilian". The upper part is a bit tricky at times, as the trail has been hollowed out by so many bikes, but it gets much better lower, in the forest – great fun ! 34 km / 4 hours / +1475 m / max 2370 m / min 1230 m / average 8%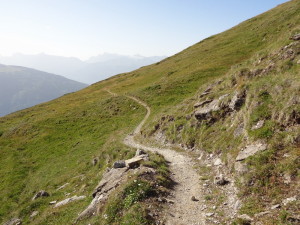 ---
Mandelon – L'A Vieille (Grand Raid) ; great and tough MTB tour circling around Hérens Valley. Surfaced road until Mandelon, where we continue following the official itinerary of the "Grand Raid Verbier-Grimentz" on a Jeep track. After a few kilometers, at Vendes, the path becomes a single-trail with lots of short rocky sections where the bike must be pushed or carried. On the right side, the path is overlooked by towering Artsinol Peak. When looking across the valley, we can appreciate the distance (and effort) remaining until we reach L'A Vieille – and further the Lona Pass (2787 m) for those on their way to Grimentz. Lots of photos in the French post. 77 km / 7h30 / over +2500 m / max 2370 m / min 960 m / average 8%
---
Pralovin – Nax ; very short and easy MTB loop around the villages of Mase, Vernamiège, Nax and their alpine pastures. The descent towards Nax runs on a well-known single trail ("the Brazilian"), where the bike can be riden all the time except for very short steep or rocky sections. 18 km / 2 hours / +740 m / max 1972 m / min 1265 m / average 8%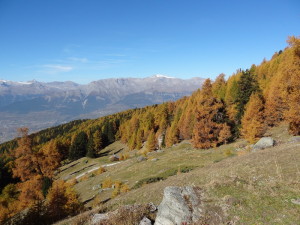 ---
Remointse de Bréona ; MTB tour climbing into the alpine pastures overlooking the village of La Forclaz. Some steep sections along the way. Beautiful unsurfaced forest road among larch trees starting at La Forclaz, with occasional panorama over the Dent Blanche and Dent d'Hérens. Possible detour via the picturesque hamlet of Bréona. Upper section above tree limit in open grassy slopes, where many marmots can be seen. 60 km / 5 hours / +1800 m / max 2530 m / min 1114 m / average 8%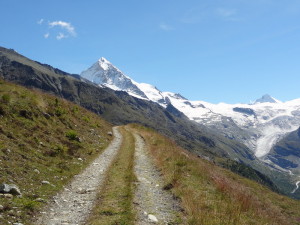 ---
Tsaté Lake ; another MTB tour climbing into the alpine pastures overlooking the villages of La Forclaz and La Sage. Some steep sections along the way. Beautiful unsurfaced forest road among larch trees starting at La Forclaz, with occasional panorama over the Dent Blanche and Dent d'Hérens. Possible detour via the picturesque hamlet of Bréona. Upper section above tree limit in open grassy slopes. The bike has to be pushed on some stretches of the way down, due to slope and narrowness of the single trail. 61 km / 5 hours / +2000 m / max 2490 m / min 1114 m / average 9%