For a map view of my bicycle routes in France, please follow this link. The routes are hereunder classified by date of travel – more recent first.

Note : journey duration in days is just informative, as it depends on average speed and daily travelled distance. It will vary with every other cyclist. The number of days mentioned here excludes resting days, as I usually never stop longer than a single night.
---
Orange – Geneva ; from Orange to Geneva in 4.5 days. Starting in the "Côtes-du-Rhône" vineyards, we wend our way through the mountains of eastern Drôme and Vercors, before reaching the nice little Paladru lake in "Département de l'Isère". Much easier last day, mostly along ViaRhôna cycle path (EuroVelo 17). Beware of traffic on road D93 between Pontaix and Die (day 2) – ride it at lunch time if you can. Apart from this particular section, we cycle on quiet secondary roads and traffic-free greenway. Slideshow of geotagged pictures here. 415 km / 24 hours / +4000 m / Summer 2017.
---
Geneva – Perpignan via the "Massif central" ; a 13 day trip through some of France's most beautiful and remote areas. We'll cycle over many hills and mountains, among which most important are : Bugey, Beaujolais hills, Livradois-Forez, Cézallier, Cantal volcanoes, Quercy plateau, the "Montagne Noire" and Corbières hills. Top of journey in Cantal, at "Pas de Peyrol", altitude 1589 m. Mainly secondary roads. Campings are available all the way. Slideshow of geotagged pictures here. 1250 km / 13 days / +13'700 m / Summer 2017.
---
Burgundy Tour ; an easy 8 day loop around Burgundy region, oftenly riding on traffic-free towpaths along waterways (Canal du Centre, Canal de la Loire, Canal du Nivernais, Canal de Bourgogne, Saône river) and also on quiet countryside roads. Cheap accomodation is scarce outside the main tourist season. Slideshow of geotagged pictures here. 793 km / 43 hours / +3800 m / March 2016.
---
South Burgundy greenway ; easy day tour along the beautiful south Burgundy greenway that links Mâcon with Chalon-sur-Saône, then onwards following canal du Centre towpath until Rémigny. Return via very quiet coutryside roads in the hills overlooking Dheune River valley. 112 km / 5h30 / +750 m / May 2015.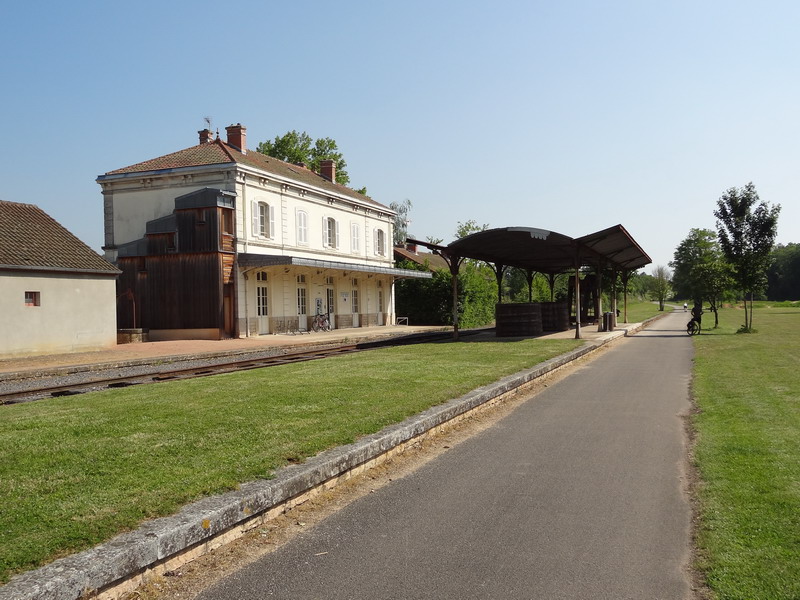 ---
Geneva – Mt Mézenc – Mt Ventoux – Lubéron ; from Geneva to Sisteron (Alpes de Hautes-Provence) via Ardeche, the cyclist's dreamland (Vaucluse) and the Lubéron mountain. Includes a climb to mythic Mont Ventoux (1911 m), via the south road, the steepest, because the northern road was still covered with snow. Tough climb, especially with around 25 kg of luggage, but the summit panorama is absolutely amazing ! Slideshow of geotagged pictures here. Mainly secondary roads. 940 km / 12 days / +1080 m / Spring 2015.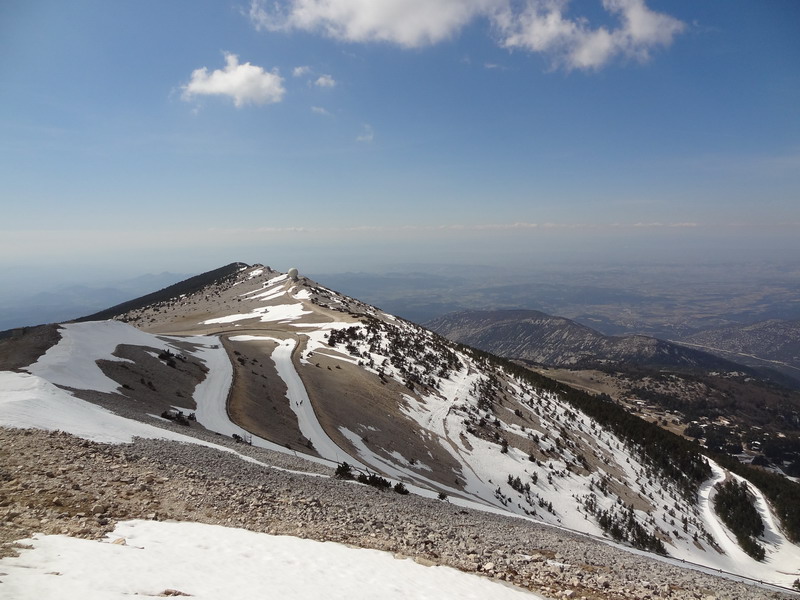 ---
Geneva – Mt Mézenc – Narbonne ; across southern France all the way to the Mediterranean Sea at Narbonne (Aude). See next route hereunder for a short description of the Northern section. From southern Ardeche, this itinerary will take you over Mt Lozere (where it was heavily snowing in mid-April !) and into the land of the "Causses" (limestone plateaus) in both Lozere and Aveyron, before reaching the vineyards of Languedoc Region. Mainly secondary roads. 909 km / 12 days / +950 m / Spring 2014.
---
Geneva – Mt Mézenc – Pierrelatte ; short journey through one of my favourite regions : Northern Ardèche, also called "Ardèche Verte" (Green Ardeche). The climatic and vegetation contrast between the Rhone Valley at St-Vallier and the Mt Mézenc area is striking. From St-Bonnet-le-Froid, the road follows the divide between the Rhone Basin (Mediterranean Sea) and the Loire Basin (Atlantic), among fir trees and flashy green pastures. The Loire's spring can be accessed by foot from Mount "Gerbier de Jonc", where we get after having cycled around Mt Mézenc – great views over Ardeche numerous valleys. Back into the plains in Southern Ardèche, we travel through arid and hot areas. Mainly secondary roads. 463 km / 6 days / +850 m. Spring 2011.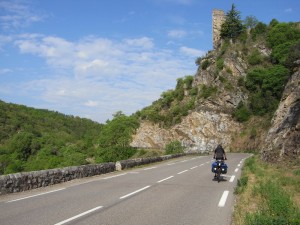 ---
Geneva – Moissac – Narbonne – Orange ; my sixth trip through the "Massif Central", partly along the Path to Compostela. I was planning to go to Spain but turned back in "Département du Gers" and headed southeast to the Mediterranean Sea, travelling along the "Canal du Midi" (most beautiful in "Département de l'Aude"). The last part of this journey, particularly the stretch in "Département du Gard" can be avoided : heavy traffic, dangerous roads, big tourist crowds and stupid prices. Mainly secondary roads. 1850 km / 23 days / +620 m / Summer 2010.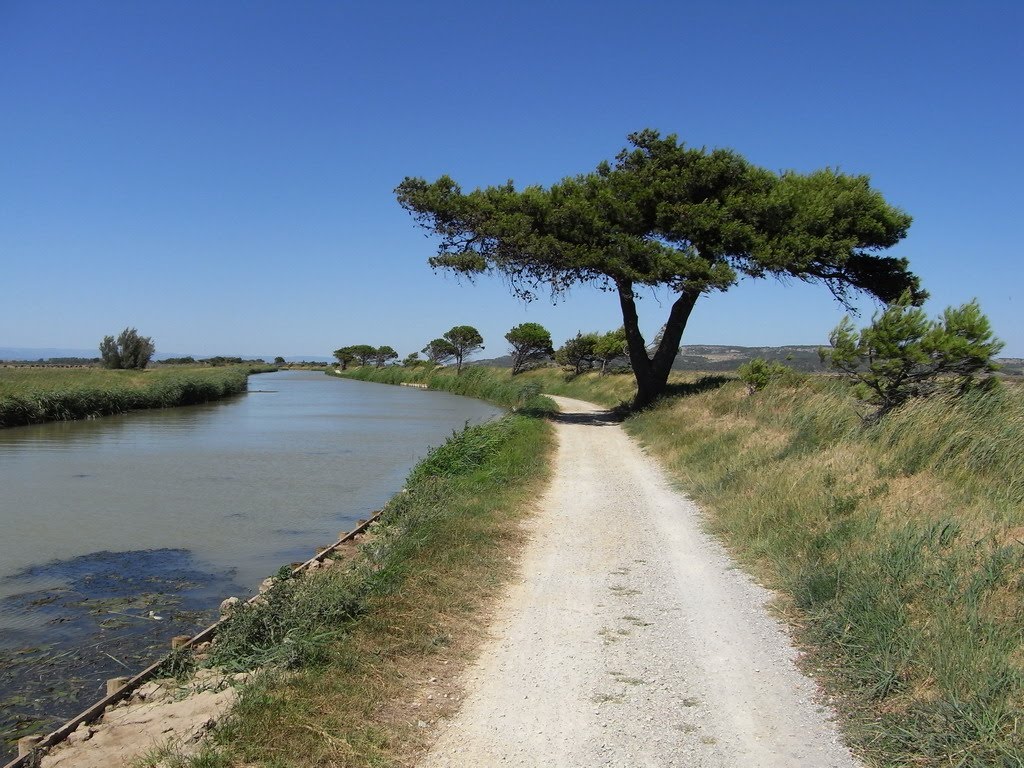 ---
Geneva – Camargue – Nîmes ; from Geneva to the Mediterranean Sea at Les Saintes-Maries-de-la-Mer (Bouches-du-Rhône) via the beautiful hills of Ardèche and Drôme, the Côtes-du-Rhône vineyards and the plain of Camargue. Then to Nîmes, to catch the train back home. Cycle tracks ("Du Léman à la Mer") and secondary roads. Photos in the article. 707 km / 7 days / +660 m / Spring 2010.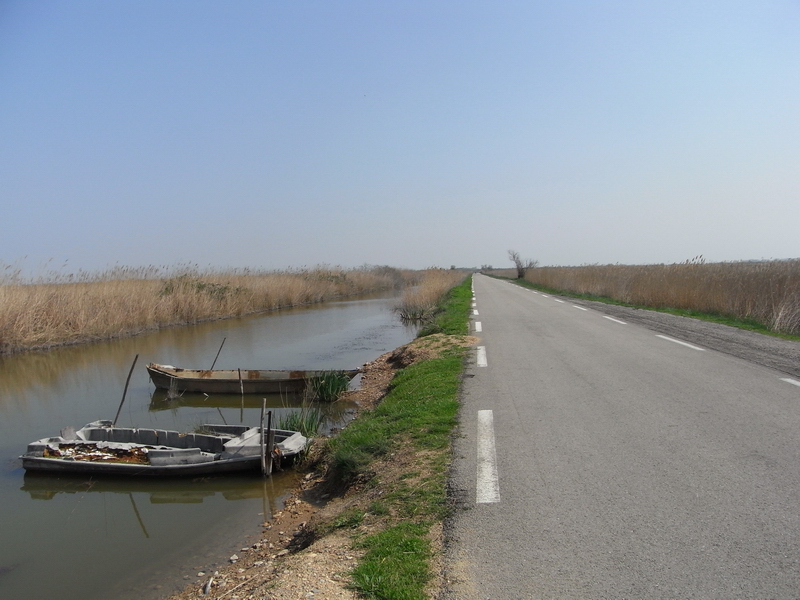 ---
St Marcellin – Les Alpilles – Montélimar ; nice and short journey south via the Vercors mountains, the hills of Drôme and the Côtes-du-Rhône vineyards. Olive and pine trees guaranteed in the Alpilles hills. The journey back North along the right bank of the Rhône, particularly in "Département du Gard", is not so much fun and can be avoided. Secondary Roads. Photos in the article. 487 km / 6 days / +780 m / Autumn 2009.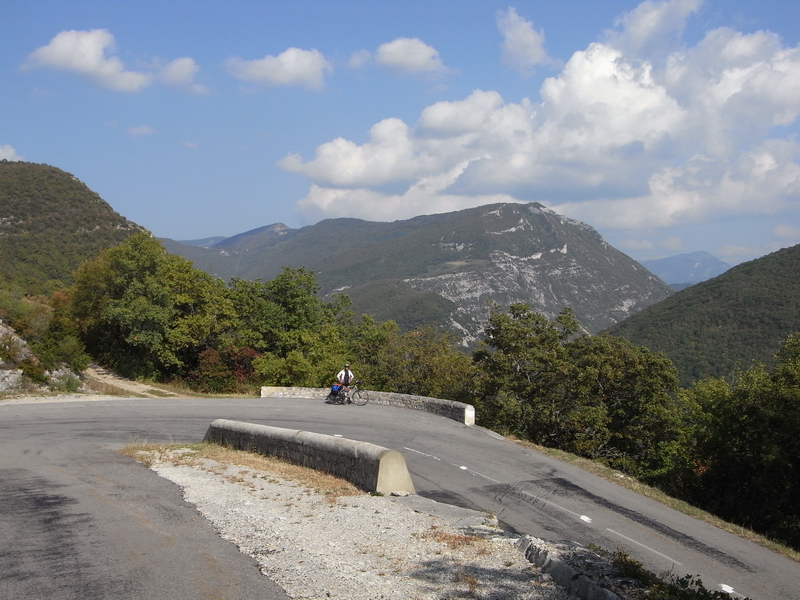 ---
Geneva to Avignon ; a short journey to Provence, published in English ; see the menu bar Routes above. Photos in the post. Spring 2009.
---
Besançon – Nantes – Brest ; a long and easy journey along the Eurovelo 6 bike route and following various waterways until Nantes : the Doubs River, the "Canal du Centre", the beautiful Loire and its lateral canal. Then along the coast of Morbihan and Finistère to Brest, via the wild and beautiful "Pointe du Raz, "Baie des Trépassés" and "Pointe du Van". Careful : lots of motorized traffic in some parts of Brittany during summer holidays. Cycle tracks and secondary roads. 1672 km / 19 days / +305 m / Summer 2008.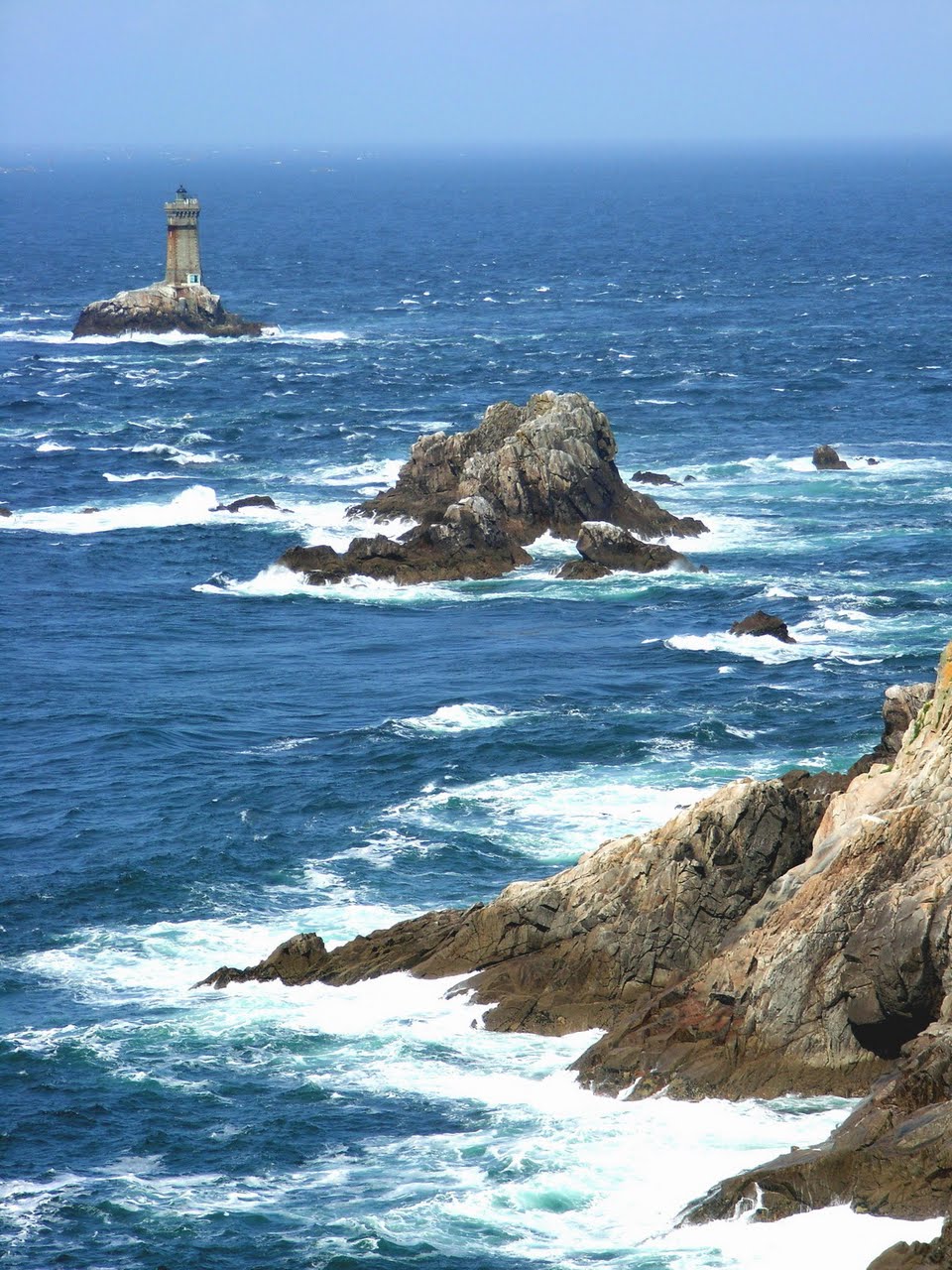 ---
Clermont Ferrand – Carcassonne – Libourne ; across the "Massif Central" on a north-south axis, via the Puy-de-Dôme & Cantal volcanoes, Aveyron, Tarn and Aude until the Pyrénées in Ariège. After a short (but tough) climb, I headed northwest along the Pyrénées, then through Haute-Garonne and Gers, before reaching the Ocean in "Département des Landes". Last part, from Villeneuve-de-Marsan onwards, can be avoided : nothing to see (artificial forest & giant maize fields), dangerous roads, massive motorized tourism, overcrowded campings and stupid accomodation prices. Secondary roads. 1318 km / 16 days / +860 m / August 2006.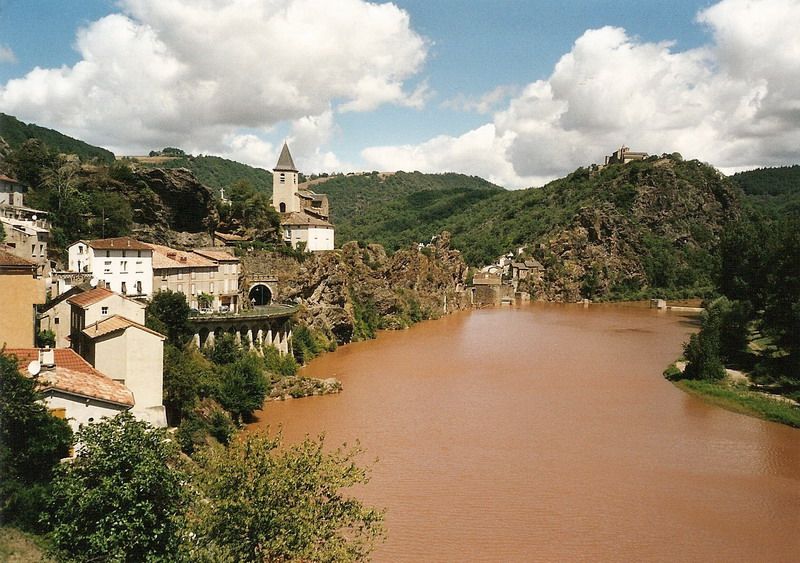 ---
Geneva – Alès – Le Puy en Velay ; long loop within the "Massif Central", starting with Ardèche North to south. Note that the Vallon-Pont-d'Arc & Gorges de l'Ardèche area in Southern Ardèche is packed with motorized tourists in July and August and should be avoided at that period. The same can be said about Anduze, further south in "Département du Gard" : a true trap for tourists ! So drive across fast, because what follows is just pure & authentic country : climb into the Cévennes towards Florac, loop "Causse Méjean-Gorges du Tarn", climb to the Mt Lozère, stretch in remote Margeride, and final ride along the young Loire. Beautiful ! Secondary roads. 978 km / 14 days / +820 m. June 2006.