Updated March 2020.
Here are the links to the already published bike routes, together with basic information, such as countries and essential figures (total distance, total time, daily climb, date of travel).
These links are referring to the French section of the website, but if you're just looking for a bike route, this might for the time being suit your needs : you'll get a detailed map of each itinerary, photos, connections between routes (allowing to plan your journey along connected sections of different routes), road map & guidebook references, links to interesting websites, plus download links for GPS and Google Earth files.
Return journey always by train, unless otherwise stated.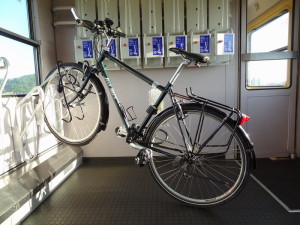 I usually use slower regional trains, as bikes are not welcome in most business traveller oriented high speed trains – like TGV in France and ICE in Germany. Not speaking of Spain and Italy, where you simply cannot board any long distance train with a bike…
I do not want to "disassemble" my bike, nor carry the required transport bag – and the company of business travellers is not my cup of tea. Hence the return trip generally lasts a few days. There were also some lucky times when I could catch a night train, which really is the best option. Unfortunately, these tend to disappear nowadays – probably too poetic, slow, environment-friendly and far too profitless for the Greedy-Greedy-in a Hurry-Bloody-$elfish-Global-Market.
Here we go – click on the links below.
International routes (long distance)
Routes in France
Routes in Switzerland
Geneva region : low altitude rides
Geneva region : mountain rides in Mt Jura & Co
Geneva region : mountain rides in Mts Salève and Vuache
MTB Routes in Valais (Swiss Alps)