Article updated in September 2023.
Here is a short description of my travel equipment. Specifications are taken from the manufacturers, except when otherwise stated.
Clothes
Panniers
Rucksack
Tents
Sleeping
Kitchen
Health and hygiene
Tools and spare parts
Other equipment
---
Spending hours on a bicycle requires suitable clothing. There are plenty brands selling sport clothes and, as with any equipment, the cheapest ones won't make you happy : zips and seams will break, fabric will tear, and so on.
Therefore, I always buy clothes from specialized outdoor and sport brands – often sold off at the end of the summer season. Synthetic textiles are the best, as they allow a good ventilation, drain sweat to the outside, are easy to wash and get dry quickly. On the other hand, the clothes worn in the evening may be in cotton.
Here is a list of the clothes I take along :
cyclist shorts (2)
short sleeves cyclist shirt
long sleeves cyclist shirt
fleece jacket
polyester scarf
cyclist socks (2)
light polyester gloves
trekking trousers
cotton shorts
cotton T-shirts (2)
long sleeves cotton shirt
cap
pair of flip-flops
low Gore-Tex hiking shoes
waterproof jacket
waterproof trousers and shorts
Gore-Tex waterproof gaiters
When travelling in Northern countries, or in Spring, I also take :
leg warmers or cyclist trousers
socks in Merino wool
warm cycling cap to be worn under the helmet
Rain Gloves (Neoprene ; won't be efficient under a temperature of around +6° Celsius)
Security equipment :
---
To carry my luggage, I've always used Ortlieb panniers. They are strong, 100% waterproof and the mounting system is fast and easy to use.
Front panniers Sportpacker Plus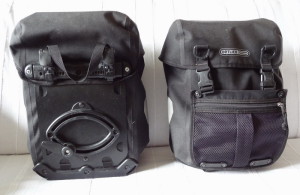 Size : 40 x 25 x 14 cm
Volume : 2 x 15 litres
Weight : 1680 g
Rear panniers Bikepacker Plus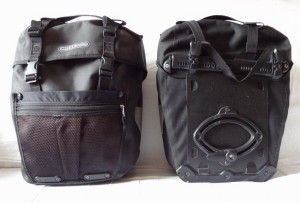 Size : 42 x 32 x 23 cm
Volume : 2 x 20 litres
Weight : 2070 g
Handlebar bag Ultimate 6 M Plus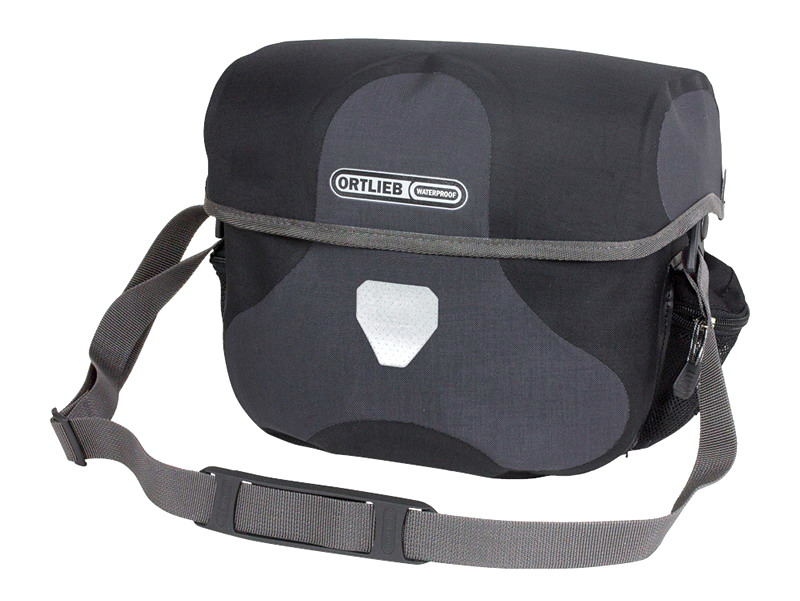 Size : 21 x 14 x 23.5 cm
Volume : 7 litres
Weight : 740 g
A waterproof map pouch can be fixed on the top of the bag.
The new model is this one : Ultimate Six Plus.
---
I generally use the rucksack when I go shopping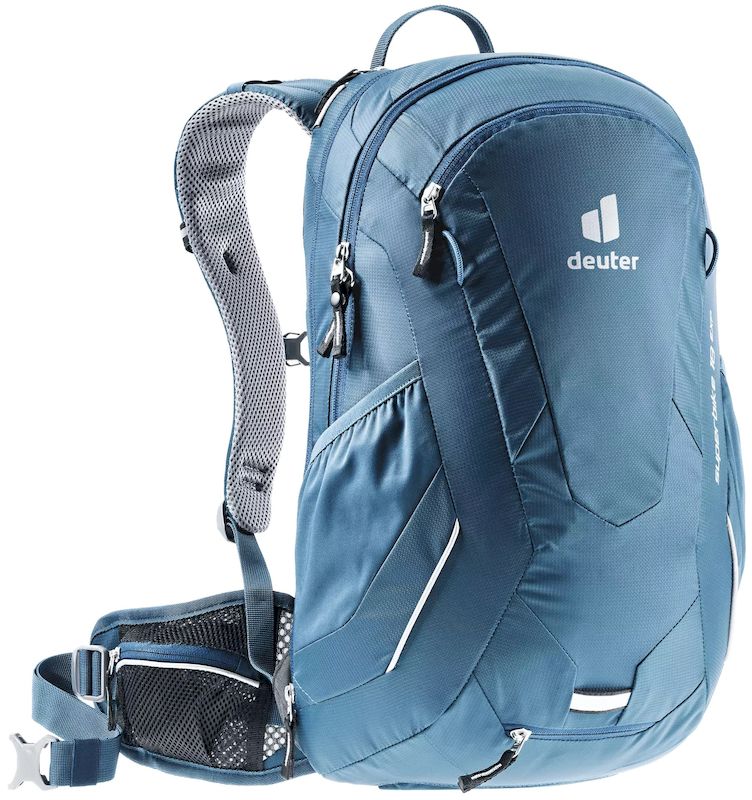 for food at the end of the day. It helps me carrying all supplies to the accomodation without having to open the panniers. It will also be useful if I decide to go hiking. Most of the time, it is empty and just tied on my rear carrier.
Model : Deuter Superbike 18 EXP
Volume : 18 litres
Weight : 1070 g
---
Old tent : The North Face Tadpole 23
This light and strong freestanding tent (2.5 kg) is said to accomodate 2 persons, which is very optimistic. In a dry climate, it is nevertheless suitable for one person and all the equipment.
One major advantage of the Tadpole 23 is the short size of the poles once folded : 37 cm. As such, it can be carried inside the panniers (size of the packed tent : 15 x 40 cm). Unfortunately, more recent models had much longer folded poles (53 cm) which therefore are no more suitable for bike travellers – I wrote to The North Face about it.
This tent was not really adequate when travelling in humid areas, as the single entry is packed with all luggage that gets wet each time you struggle to enter or get out of the tent.
After 7 years (2005-2012), meaning many months on the road, I now use this tent only during short journeys in dry climate. The outer fabric suffered from UV radiation exposure as in the early years I ignored the damaging effect of solar radiation and regularly stayed a few days in places without protecting the tent from the sun. Moreover the seams suffered from so many unfolding and folding processes. I repaired what I could with Seam Grip, but didn't succeed to make it waterproof again : it's leaking inside in case of rain…
---
New tent : EXPED Venus II Extreme
It took me some time in the shops and on the internet to find a tent corresponding to my own use and wishes. Most important aspects were the size of the folded poles, the size of the room and global quality. Unfortunately, many lightweight tent brands do sacrifice quality to weight. I've been setting up several different tents in the shops to find out that most of them did not meet my requirements in terms of quality and durability – and this particularly concerns the brand MSR, whose tents proved very disappointing.
As already said, it is nowadays very difficult to find a tent whose folded poles are short enough to be carried inside the panniers (max size 42 cm) – but this is the case with the Venus II model from EXPED, a very spacious freestanding tent weighing 2.95 kg.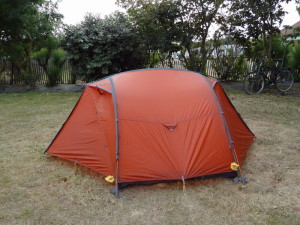 The 2 vestibules and 2 doors are real good value when compared to the Tadpole's single entrance packed with luggage : now I can store my luggage on one side and use the other side to enter and get out. The rectangular inner room (1.25 x 2.20 m) is very comfortable for one person.
Unlike what EXPED's videos pretend, the setting up of the Venus II will require around 15 minutes. Except in very dry areas, it is necessary to fix all the "ropes" to tent pegs, otherwise the rainfly and the canopy might be in contact, allowing condensation to pour into the room. This is the major defect of the Venus II. Others are the yellow colour of the canopy, which attracts millions of insects, and the velcro "fixings" of the air vents, which damage the mosquito mesh. Apart from this, the materials and the finishing appear very good.
---
Ultralight tent : EXPED Spica II UL
I bought this ultralight tent for journeys with the mountain bike, when I can only carry two panniers (instead of four). The Spica II offers maximum space for minimum weight (1.7 kg). The room (1.20 x 2.20 m) is very comfortable for a single person, but the vestibule cannot accomodate more that 2 panniers and a pair of shoes.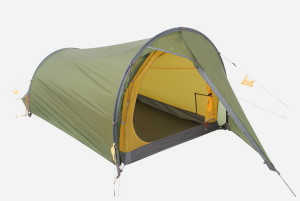 The folded poles aren't longer than 40 cm and can therefore be stored inside the panniers.
As with most other EXPED tents, the canopy and rainfly are tied together, but they can be separated if necessary (eyelets). Setting up the Spica II is fast and easy but the site has to be accurately determined before as this tent is not freestanding. Just like with the Venus II, I recommend to fix all "ropes" to tent pegs to avoid any contact between the canopy and rainfly.
Belonging to the "3-season" category the Spica II offers good insulation, in particular regarding wind.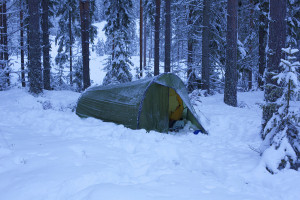 The rainfly goes down to the ground on one side, which can prove a disadvantage : in spite of the 2 air vents, it can be very hot in the tent during summer nights. Of course, the rainfly door can remain open, but then all luggage is exposed and easily accessible to anybody outside…
Moreover, the poor ventilation often results in condensation inside the rainfly, making it necessary to let the tent dry before packing it, especially when it is not planned to camp the following night. Drying up the tent will take time, as the two parts are tied together. Separating them will shorten the drying, but require significant handling time…
Apart from this, the Spica II is a good quality tent which shows the remarkable level of finishing of EXPED's outdoor products.
---
Self-inflating mattress Therm-a-Rest Prolite 3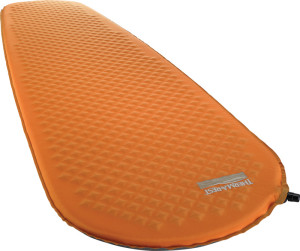 Dimensions :
– inflated 51 x 183 x 2.5 cm
– rolled Ø 10 cm x 28 cm long
Weight : 552 g
Thermal insulation efficient up to a minimum of +2°C.
Sleeping bag Mammut Ajungilak Lahar Spring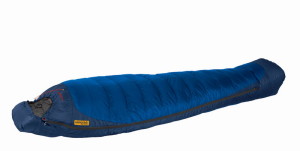 Fill : down
Form : mummy
Length : 195 cm
Weight : 830 g
Temp. (norm EN 13537) : comfort 3°C ; extreme -12°C.
Note that these temperature specifications will not suit everybody, as they rely upon numerous factors : personal physical factors, nutrition state, tiredness, etc. Moreover sleeping bags filled with down will quickly loose efficiency in a wet climate : I remember I felt cold some foggy nights with temperatures around 9°C. Therefore I only use this sleeping bag in warm countries.
Sleeping bag Mammut Ajungilak Lahar 3 Season
Fill : down
Form : mummy
Length : 195 cm
Weight : 1150 g
Temperature (norm EN 13537) : comfort -1°C ; extreme -17°C. This is the sleeping bag I take along when I travel in early Spring.
Exped Air Pillow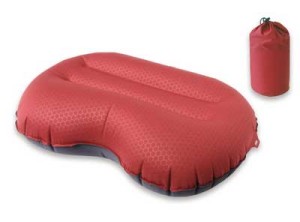 Very comfortable and ultralight. Used inside an easy to wash cotton pillowcase.
Dimensions :
– inflated 38 x 27 x 11 cm
– packed 5.5 x 12 cm
Weight : 85 g
---
To prepare warm meals in the evening, I use :
– an MSR "SuperFly" stove, whose principal advantage is its compatibility with most self-sealing gas canisters. This product is now discontinued.
Weight : around 180 g.
– MSR "Quick 2" pot set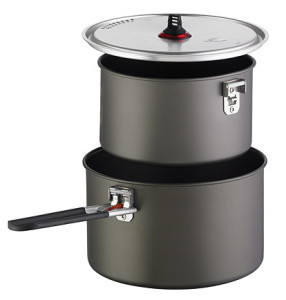 including 2 pots, a lid and a handle. Once folded, the handle wil maintain the pot set closed. During the day, I put the gas stove, seasonings and spices inside the pots, which is saving volume in my panniers.
I also carry :
– a wooden spatula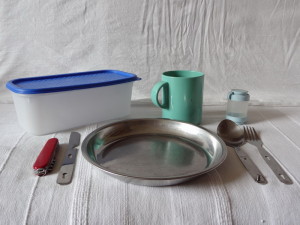 – a steel plate (126 g)
– a fork and a spoon
– a swiss knife (with corkscrew !)
– a plastic cup
– a plastic box for food
– seasonings and spices (olive oil, vinegar, salt, pepper, curry, thyme)
– dishwashing liquid and sponge
---
soap and shampoo
micro fiber towel
eyedrops
healing cream
talc (baby powder)
liquid disinfectant
adhesive strip
paracetamol & anti-inflammatory pills (Ibuprofen 400)
clinical thermometer
ear plugs, for crowded dorms and noisy campings
Micropur Forte, for areas where drinking water is rare
liquid detergent for clothes, washing line and 6 clothes pegs
anti-mosquito spray (Anti-Brumm Forte)
anti-tick spray (Anti-Brumm) and tweezers to remove ticks
sun cream (grade 30 minimum)
---
To deal with most common breakdowns and for the regular maintenance of the bike during the journey, I usually take the following tools and spare parts :
– a multiple tool for bicycles (Topeak multi-tool)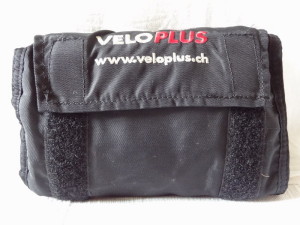 – wrenches 8-9, 10-11 and 15
– a spoke wrench
– Allen wrenches 4, 5 and 8
– a small pliers
– a pair of brake pads
– a brake cable
– a derailleur cable
– a hand pump
– 3 tyre-levers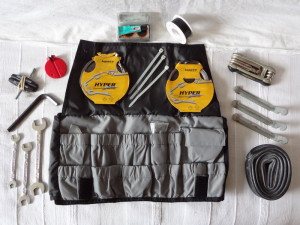 – an inner tube repair kit
– a new inner tube
– a small bottle of chain oil
– a roll of adhesive tape
– a few plastic clamps, of various sizes
– rags.
---
The following items are always in my panniers or on the bike :
mobile phone with GPS
water bottles (1.5 liters)
lightweight headset for the phone (music, radio)
numeric camera and charger
Power Bank (5000 mAh)
headband lamp (Petzl Tikka)
small notebook and pens
sewing kit
books and roadmaps
life blanket, used as a protection under the tent
2 strong padlocks for the bike, of which one is a 200 cm cable
beach mat or coarse cloth for a comfortable dinner and evening in the grass next to the tent
stick, for the occasional aggressive dogs
Depending upon destination and season, I also take :