For a map view of my bicycle day tours around the Geneva region, please follow this link. The routes are hereunder classified by alphabetical order.

---
La Croisette – Le Sappey – Cruseilles ; for road and trekking bikes. Over Mt Saleve via the col de la Croisette and down Mt Salève's eastern hillside. The quiet road all the way to Cruseilles offers nice views over the plateau des Bornes and the mountain ranges of Haute-Savoie (of which Mt Blanc is the highest peak). Watch out on road D1201 from Cruseilles to Mt Sion pass, as traffic can be heavy ! 62 km / +950 m / highest 1175 m / average 9%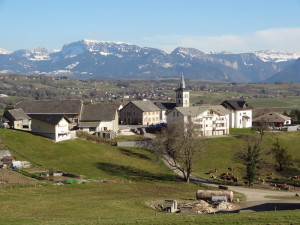 ---
Maxi-Salève ; MTB ride invented by my friends Olivier and Philippe, who focused on avoiding as much as possible surfaced roads after the col de la Croisette, while selecting the best single trails. Mt Salève is also accessible by cable car for those who want to avoid the steep 600-meter climb. 60 km / +1450 m / highest 1335 m / average 8%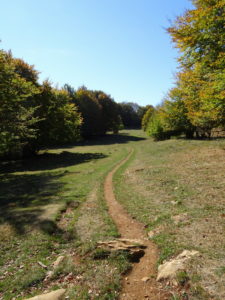 ---
Montailloux VTT Salève 2014 (53 km) ; this MTB tour around Mt Salève is organized each year in September by the "Montailloux VTT club". My first participation in 2014 allowed me to discover a few new single trails, some of which very enjoyable. Not all sections are nice though, and I didn't like the (steep) descent behind col des Pitons nor the long last loop on western foot of Mt Salève. A selection of best sections, leaving from and returning to Geneva, has been posted here. 53 km / +1700 m / highest 1335 m / average slope not calculated.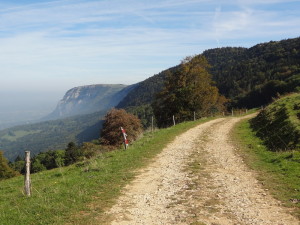 ---
Montailloux VTT Salève 2015 (42 km) ; 2015 edition of this MTB tour around Mt Salève, following a different itinerary than previous year. Some good sections, some bad ones (in particular the descent between Vouarger and St-Blaise on a bad forest track – steep, slippery, lots of stones and mud). 42 km / +1300 m / highest 1335 m / average 8%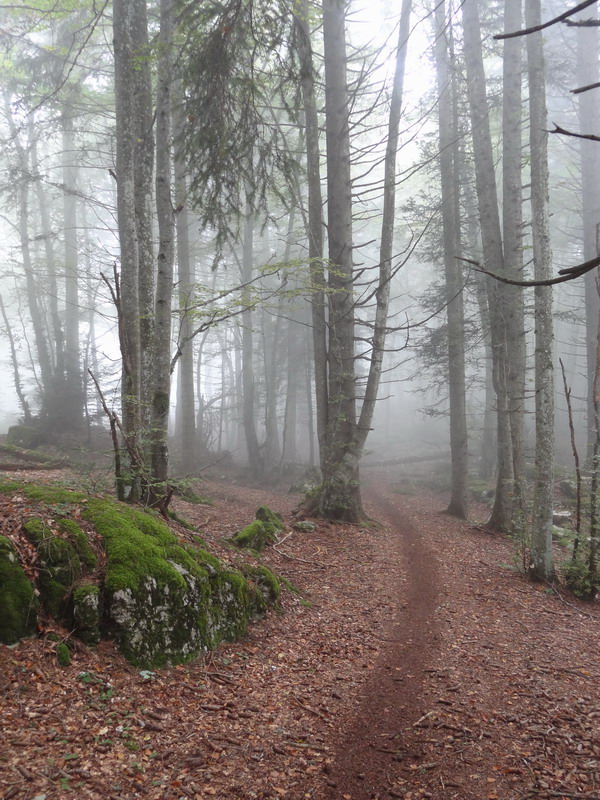 ---
Mt Salève & around Mt Vuache ; for trekking and mountain bikes. Combination of two other published routes in Haute-Savoie (Ridge route 1 and Around Mt Vuache), for those who consider them too short. Several unsurfaced sections, both on Mt Sion and on southwestern side of Mt Vuache, therefore a mountain bike is recommended for this ride. 93 km / +1590 m / highest 1335 m / average 7%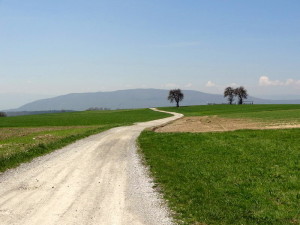 ---
Mt Salève & Mt Sion for mountain bikers ; this MTB tour is partially inspired by the "Montailloux VTT Salève" itinerary hereabove, but it starts and ends in Geneva, climbs on Mt Salève via the col de la Croisette and favours the best forest track & trail sections. Wildlife (chamois, fox, hare) can often be seen on some places. I provided two alternatives to avoid some technical and/or rough single trail descents. 78 km / +1480 m / highest 1335 m / average 7%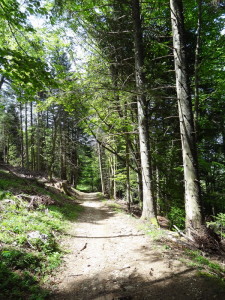 ---
Mt Salève via Monnetier ; for road and trekking bikes. Tour riding along Mt Salève's summit on its full length. In Veyrier, we take a pedestrian path along river Arve to avoid the many dangerous roads packed with traffic in the border area. The climb is quiet and easy as far as the village of Monnetier. Then, it becomes steeper and much less nice, as the road is narrow and cars do overtake without respecting safe distance. Be warned. Besides, there isn't anything to see until we get out of the forest, just before the cable car upper station. From there onwards, the ride is great and panorama beautiful. If you don't want to climb this boring route, take the cable car or climb via col de la Croisette instead – steeper, but safer and nicer. 72 km / +1200 m / highest 1335 m / average 7%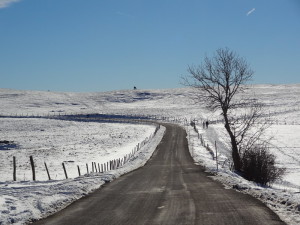 ---
Ridge route 1 (Salève & Mt Sion) ; for MTB. Around the southwest corner of Geneva basin, via the steep col de la Croisette (9 % average), the col des Pitons, St-Blaise and the crest of Mt Sion, all in Haute-Savoie. Those who don't want to climb La Croisette can take the cable car at Le Pas de l'Échelle, just passed the border from Veyrier (about 10 CHF one-way). Great panorama over the Alps and Mt Blanc in La Croisette. MTB recommended, as the Mt Sion sector is driven on unsurfaced (and sometimes rough or muddy) tracks. 82 km / +1250 m / highest 1335 m / average 7%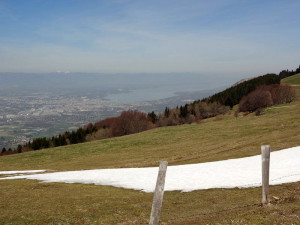 ---
Ridge route 2 (Mt Sion & Vuache) ; for MTB. Just a bit further west, from Ridge route 1. Here, we start by following the foot of Mt Saleve and climb until the village of St-Blaise, at an altitude of around 900 meters. The last stretch, on the Path to Santiago de Compostela, is steep, stony and often very muddy – you'll definitely need a MTB. Next stage mainly on surfaced roads, across Mt Sion and its agricultural surroundings, up to Chaumont, a picturesque village built at the foot of Mt Vuache. The climb starts here on a steep pedestrian path, and until the other side of the hill, at Vulbens, there will be very few sections where the bike can be riden – most of the time one has to push it or even carry it (around 2 hours in total, please keep this in mind if attempting to ride this route). At Oratoire Ste-Victoire, near northern end of Mt Vuache, there's a nice and abrupt view over the Rhone. The path leading down to Vulbens is a bit difficult to follow and can be VERY muddy – be careful ! 86 km / +1450 m / highest 1101 m / average 9%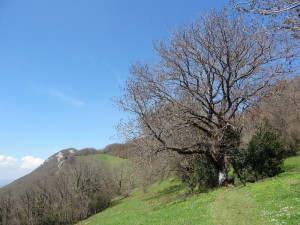 ---
Winter snow ride ; for MTB. My preferred ride for snowy days, as it offers about 10 km of dirt tracks and single trails not cleared of snow close to the city. Best when temperature is negative and landscape covered with 5 to 15 cm of fresh and dry snow. A section of this itinerary, between Beaumont and the hamlet of Chez Grésat, follows the official pilgrim's Path to Santiago de Compostela. 52 km / +680 m / highest 890 m / average 7%