For a map view of my bicycle day tours around the Geneva region, please follow this link. The routes are hereunder classified by alphabetical order.

Please note that as the Jura range is a limestone area, drinking water is rare – so bring enough with you (one liter minimum). Moreover, most villages do not have a shop. In France, you'll find big shops in Les Rousses, Morez and St-Claude, plus tiny groceries or a bakery in Chapelle-des-Bois (25), Mouthe (25), Les Fourgs (25), Bois d'Amont (39), Longchaumois (39), Lamoura (39), Doucier (39), Pont-de-Poitte (39), Thoirette (39), Lélex (01), Brénod (01) and Poncin (01), for the places I visited. In Switzerland, you can find supplies in St-Cergue (VD), Le Sentier / Vallée de Joux (VD), Sainte-Croix (VD), Fleurier (NE) and Couvet (NE)
---
Crozet – Le Gralet ; MTB tour climbing on Mt Jura high range via the village of Crozet and the forest road. The bike must be pushed up on a steep and unmarked path (about 150 m climb, taking more or less half an hour). On top, we reach the mountain refuge called Le Gralet, at an altitude of 1460 m. The refuge is open all year, there is plenty of wood to make fire, a kitchen and 18 beds on the first floor (5 Euros per night). Get a booking here, more info there (both in French). The upper part of the forest track which we take to go down towards Farges may be muddy and slippery. Beware of hunters in Autumn : wear a fluorescent jacket, sing loud or shout – you'll save your life, plus that of some friendly animals ! 88 km / +1350 m / highest 1460 m / average 8%
---
Excursion in Valserine valley ; long MTB loop across Mt Jura towards the wild and well preserved valley of Valserine. Two crossings of Mt Jura high range : first climb to col de Crozet (1485 m) followed by a tough descent to the village of Lélex on a steep forest track covered with rolling stones (not a nice moment). Second climb to col de Menthières (1136 m), and then higher to a nameless pass (1360 m) near col du Sac. Some great views over the Marie du Jura cliffs in Valserine valley, where we feel as if we were far away of Geneva – the environment being so different and so quiet. 101 km / +2000 m / highest 1485 m / average 7%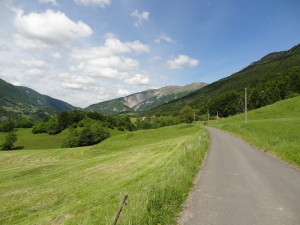 ---
Geneva – Culoz – Plateau de Retord ; for road and trekking bikes. One and a half day tour in three French departments : Haute-Savoie, Savoie and Ain. Hills, river and mountain environments. Secondary roads & cycle paths, all surfaced, apart from a short stretch of rural road between Serrières-en-Chautagne and Culoz. Be careful on the Culoz-Artemare section (D904), as it can be very busy on weekdays ! 133 km / +1550 m / highest 1178 m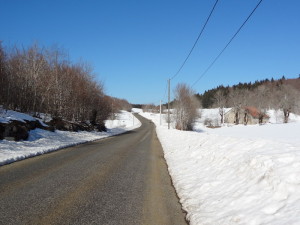 ---
Jura and Ain loop ; for road and trekking bikes. This 3-day ride on quiet secondary roads tours the southwestern part of the extended Mt Jura region in two French Départements : Jura (39) and Ain (01). The main hot spots are the gorges of the Bienne river near Morez, the lac de l'Abbaye, the silent col de La Joux (1035 m), the lac Chalain (great for a swim and a beer on the beach at the end of a long summer ride), the Vouglans dam and its winding lake surrounded by hills covered with forest, the gorges of the Ain river, the impressive Cize-Bolozon railway viaduct, the Bugey hills and their vineyards, the plateau de Retord, the great panorama at col de Cuvéry (1178 m), the Génissiat dam on the Rhône and the Fort l'Écluse narrow pass. Numerous campsites to overnight along the way – I slept in Châtillon near lac Chalain (39) and Poncin (01). It is possible to catch a train from Ambérieu-en-Bugey or Bellegarde-sur-Valserine back to Geneva ; both railway stations are within 10-20 km from this itinerary. Departure from La Givrine, which we easily reach by train from Nyon, schedule here. 285 km / +3000 m / highest 1228 m / 17 hours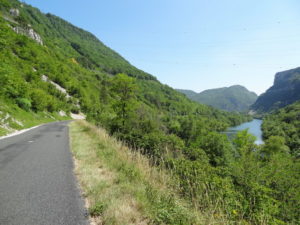 ---
La Barillette MTB ; this is the itinerary of a popular MTB race held each year at the end of August and starting at Chéserex, near Nyon. The low altitude loop must be riden twice before starting the serious climb to La Barillette (1500 m). Some very steep sections above Gingins may require to push the bike. Mostly in the the forest, so adapted to those very hot summer days. Note that this route is not signposted outside the race period and cannot be followed exactly without a GPS. More information (in French) on the official website. 33 km / +1500 m / highest 1500 m, according to the organiser.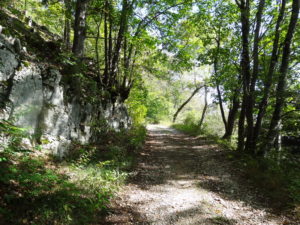 ---
La Givrine – Marchairuz – Morges ; a short MTB ride in Mt Jura, for those days when we do not want to climb the full mountain. La Givrine can be easily and very comfortably reached by train, from Nyon. So we cycle in true nature from the start, first on a surfaced road until the farm du Haut Mont – take the not so visible track on the left before reaching the farm and ride through the pastureland to the forest, where some sections may require to push the bike (mud, stones, big ponds). At Le Vermeilley, we continue on a surfaced road that we leave shortly after for a forest track leading to Les Pralets. From there, it's an easy and quiet 10 km ride through the beautiful Combe des Amburnex, until the Marchairuz main road. There can be some traffic during week-ends, but the climb to the top of the pass is short and the descent will be more quiet as there are two different roads. 46 km / +400 m / highest 1449 m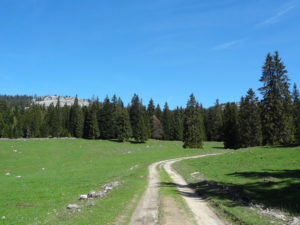 ---
La Givrine – Môtiers – Genève ; during this 2-day ride for road and trekking bikes, we explore both the French and Swiss Jura mountains and valleys. When reaching the Val de Mouthe in Département du Doubs, we continue on to the lakes of Remoray and St-Point. Unfortunately, there will be some traffic around the lakes, and yet much more on the dangerous N57 that we have to take during 2 km (there might be an alternate forest track on the other side of the river but I didn't test it). Then it's more quiet uphill until we come back to Switzerland and join the signed Jura cycle route (Suisse à vélo 7) all the way down to Fleurier and Môtiers. The next day, we have to climb another 500 m on a very silent forest road to reach the village of Mauborget, where we enjoy a great panorama. After the long descent, we will ride around the Orbe plain, following an official signed cycle route (Suisse à vélo 487) and eventually reaching the beautiful abbey church of Romainmôtiers. From there to Geneva, we follow the foot of the Jura , cycle through the vineyards and around the lake of Divonne, then across beautiful woods to Meyrin – always on cool secondary roads or good unsurfaced forest tracks. 255 km / +3200 m / highest 1232 m / 13 hours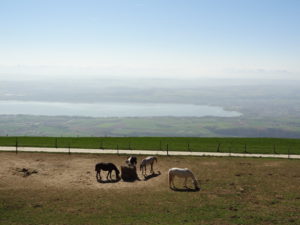 ---
Morez – Longchaumois – Upper Valserine ; another road bike tour in the French Jura, where we turn left at Morez, instead of right like in this other ride. The area around Longchaumois and all the way to the tiny winter resort of Lamoura is very quiet and rural – I saw 3 roe deers running across the road in front of me ! Beautiful descent ans great hairspins between Lajoux and Mijoux, in the Vallée de la Valserine. From here, there are 3 alternatives to go back to Geneva. First is to climb the col de la Faucille, but you'll be facing heavy traffic, including trucks. Second and best option is to ride to the quiet col de Combe Blanche – but the road won't be cleared during the snow season. At the end of March, I decided to cycle uphill along the Valserine valley until Le Tabagnoz. Then, to avoid riding on the dangerous D1005 highway, I left the road and pushed my bike across the pastures/ski runs to nearby Cuvaloup-de-Crans, back in Switzerland. Be careful : this section and the following 3-4 km to Les Pralies will be covered with snow late into Spring ! From there on, it's an eays way to Geneva, via Arzier (less traffic than on the Nyon-St Cergue main road), Trélex, Divonne lake, the Versoix woods and Meyrin. 130 km / +1250 m / highest 1290 m / average 6%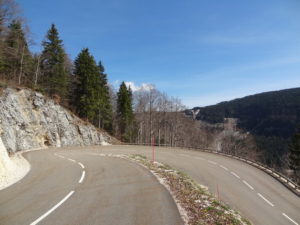 ---
Morez – Mouthe – Mollendruz ; this road and trekking bike tour leads to some very sparsely populated valleys in the French Jura. Starting at La Givrine, we first ride to the top of the Montée de Prémanon, which we will descend to the town of Morez ("Moré", don't pronounce the "z"), once famous for its clocks and built in the narrow Vallée de la Bienne. There is a footpath where we can push the bike for about 700 m to avoid riding on the dangerous N5 while leaving Morez towards Morbier (see the map of this route). Then it's only quiet secondary roads, first climbing to the little ski resort of Bellefontaine and later more or less level through an open valley in the Département du Doubs. The little town of Mouthe is ideal for the pic-nic break. Situated near the spring of the Doubs River, it is also known as the "coldest village" of France. From there, a little road goes back to the Vallée de Joux in Switzerland, via the easy col de Landoz-Neuve (1260 m). It's another 170 m climb to the col du Mollendruz, before the last ride along the foot of the Jura and through the vineyards until Rolle railway station. Departure (Geneva-Nyon-La Givrine) and return (Rolle-Geneva) by train, schedule here. 105 km / +1300 m / highest 1260 m / average 6%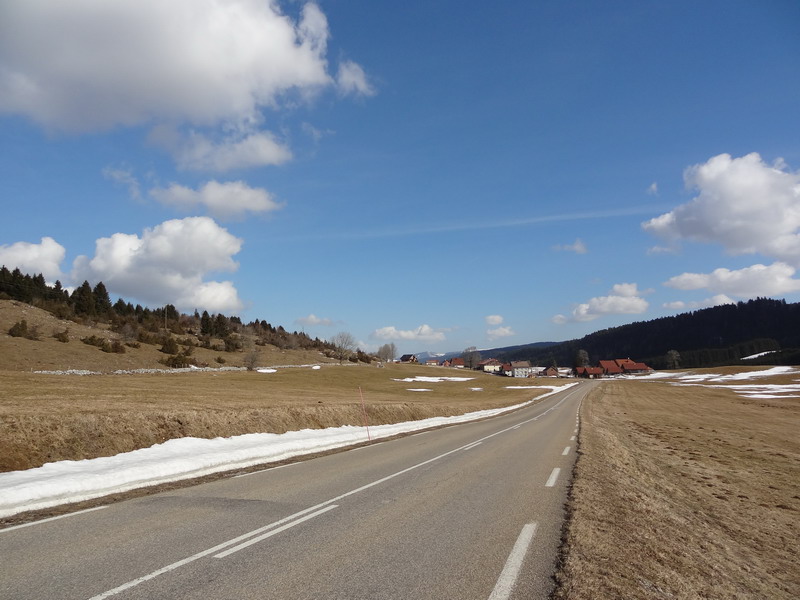 ---
Mt Jura high range marathon ; for MTB. The challenge was to ride as far as possible close to the ridge of Mt Jura high range without going down – and this is the result. First climbing at col de Crozet (1485 m), we'll enjoy 90 km of nearly intact nature until Juriens. There will be a mix of unsurfaced forest tracks, quiet tarmac mountain roads, short sections of single trails and a part of an official MTB route (« Mont Tendre Bike », Suisse à VTT 996). A GPS would be a good idea to avoid riding down to the Vallée de Joux, as the signing of « Mont Tendre Bike » is not always very clear. Cool ending on secondary roads until Rolle, where we can catch a train back to Geneva – schedule here. In Summer, take plenty of water with you ! There are many possibilities to shorten the ride if you're tired : get down at col de Combe Blanche, St-Cergue, Bassins, col du Marchairuz or col du Mollendruz. A few alternative routes are also proposed, some of which will make the ride even tougher… 142 km / +2300 m / highest 1520 m / average 7%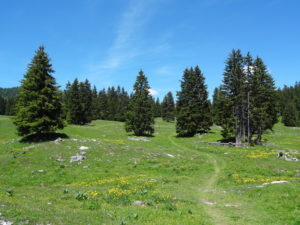 ---
Mt Jura forest road ; for trekking and mountain bikes. Beautiful tour passing by the Allondon spring before climbing on the hillside of Mt Jura. The ride in the forest is more or less 40 km long and includes unsurfaced stretches, therefore a MTB is higly recommended. 95 km / +1160 m / highest 1157 m / average 6%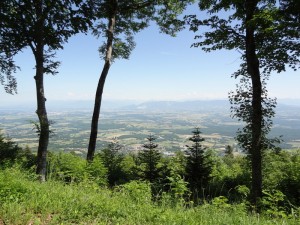 ---
Ridge route 3 (Crozet – Curson) ; for MTB. This time we head to Mt Jura in Département de l'Ain. If you can transport your bike to the village of Crozet, you'll get much more time in the mountain and save around 50 km distance. The climb is very moderate all the way to Fierney/Crozet cable-car station, and surfaced on the lower half. Above Fierney, we take a stony forest track heading west and ride the first 2 km or so on the bike, until La Calame mountain hut. In Autumn, make sure to regularly ring your bell, sing loud or play your mp3 player, as this is a hunting area ! After La Calame, the track becomes chaotic and the slope much steeper, hence the bike has to be pushed the next 2.5 km. At the chalet-refuge de Curson (1580 m), the courageous biker can enjoy a cold beer while contemplating a wonderful panorama over Geneva basin and the Alps. Note that the descent towards Le Tiocan is tricky, due to a very steep (above 40% !) and slippery track. 77 km / +1500 m / highest 1580 m / average 7%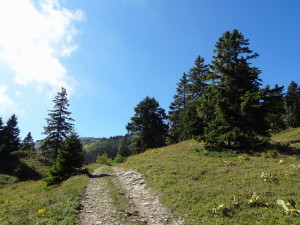 ---
Ridge route 4 (Crozet – Faucille) ; another MTB tour in Mt Jura Nature Reserve, starting like Ridge route 3, but riding over col de Crozet at 1485 m, then heading towards col de la Faucille via a mountain pasture road on the Northern slope of Mt Jura. Great 360° panorama at col de Crozet and easy ride down to Gex from col de la Faucille. Toughest part above Fierney cable-car station, due to a steep climb and rocky track. Do not attempt to ride this itinerary in the other direction, as there is very heavy car and truck traffic climbing the Faucille pass over to Mijoux and further. 86 km / +1500 m / highest 1520 m / average 7%
---
Ridge Route 5 (Crozet – Combe Blanche) ; this MTB tour is an extension of the previous tour, continuing towards La Vattay from col de la Faucille, instead of riding down. At La Vattay, we take a small forest road up to the col de Combe Blanche (1390 m). There isn't any traffic there and the climb is short and easy. I spotted a hare and three chamois (among which a mother and baby) during the long descent towards Divonne-les-Bains. Beware of the many fallen stones on the road ! At Divonne, we ride around the little lake, together with a big crowd if it's a Sunday afternoon. Back in Switzerland, we take great unsurfaced rural/forest tracks and small roads along the border all the way to Bossy. 102 km / +1500 m / highest 1520 m / average 7%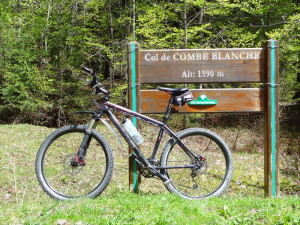 ---
Ridge route 6 (Crozet – Vesancière) ; this MTB loop in Mt Jura is a shorter variant of Ridge route 5 above, starting and ending at the village of Crozet. After climbing Mt Jura via col de Crozet, passing La Faucille and La Vattay, we branch off col de Combe Blanche road and push our bike up a forest track which in some places has been greatly spoiled by forestry machines. This section ends up on a nice unmarked single trail and is not always easy to follow, as there are a few "junctions". The rudimental refuge La Vesancière is a nice spot for a pic-nic, but there's no water and nothing else than a roof and firewood – which can still be useful if you're caught in a storm up there. From there, a nice single trail goes down to the village of Vesancy, but there are some steep and stony sections. 49 km / +1300 m / highest 1520 m / average 7%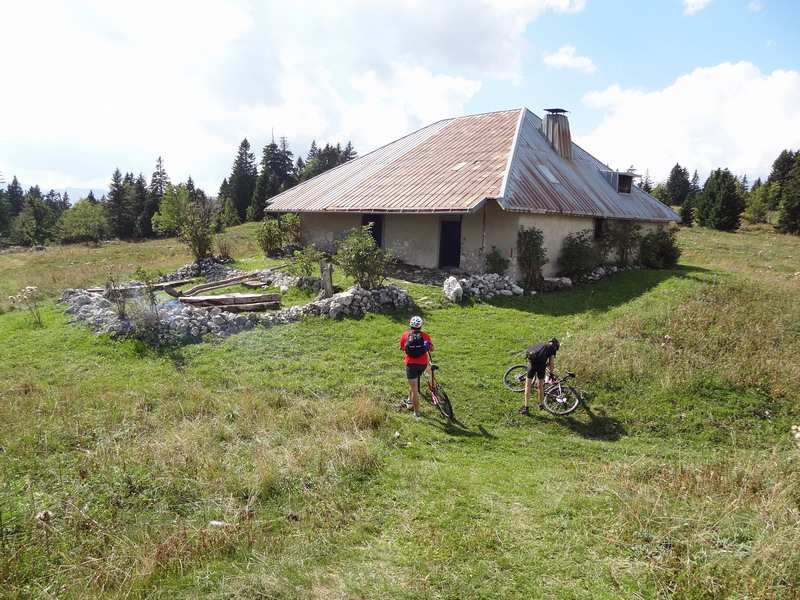 ---
Ridge route 7 (Crozet – St Cergue) ; for MTB. This is another extension of my Ridge routes 4 and 5. Just before reaching the top of col de Combe Blanche, we take a nice forest track on the left, which heads to chalet de la Grande Grand and the Swiss border. Back in Switzerland, we go down a bit in a beautiful open valley situated just below La Dôle summit (1678 m). At the farm named Sonnailley au Prince we continue riding through the pastures to the forest, where a cool single climbs for about 15 minutes. After passing the chairlift, we cycle down the somewhat rocky and ugly ski runs back to the surfaced road at Cuvaloup-de-Crans. There's a nice café and terrace here for a beer before continuing with the descent to St-Cergue and Nyon. A few kilometers further, we avoid the heavy traffic by staying on the old road that runs parallel to the highway. At St-Cergue, I prefer to take the road to Arzier on the left instead of the main road to Nyon, as it has less traffic. Then we join National Cycle Route 7 in Le Muids and just have to follow the signs to Nyon, where we either catch a train back to Geneva or ride the cycle lane along the Route de Suisse. 108 km / +1600 m / highest 1520 m / average 7%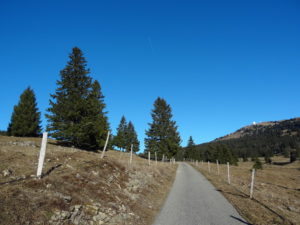 ---
Val de Bienne – Lacets de Septmoncel ; for road and trekking bikes. Always further in the Jura mountains : this time we head to the gorges of the Bienne river, beyond Morez. The narrow road (D126) is closed to motorized traffic on week-ends, but there is hardly a vehicle even during weekdays. For several kilometers, we're riding in the forest, zigzagging below the railway line and its many viaducts. There will be some traffic on the D437 after La Rixouse and some more beyond Valfin les St-Claude, as several roads join together in the narrow Bienne valley. St-Claude is the biggest town on this tour so you'll find supplies if you need. At 435 m altitude, it is also the lowest part of the tour and our 1500 m climb will start here. Caution : the road to Septmoncel (D436) is a major highway and I don't recommend cycling it outside week-ends. During the climb, we enjoy great views on the Flumen gorges and ride some beautiful hairspins – the "lacets de Septmoncel". On top, we discover the next challenge : the Mt Jura high range. which we will get over via the beautiful and quiet col de Combe Blanche,leading to Divonne. Departure by train to La Givrine, schedule here. 120 km / +1500 m / highest 1390 m / average 5%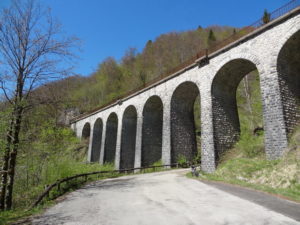 ---
Vallée de Joux – Mollendruz – La Côte ; wonderful road & trekking bike tour exploring the valleys and lakes of the French and Swiss Jura. Can be riden in winter as well as most of this journey follows surfaced and cleared of snow secondary roads – the few exceptions can be avoided by taking the main road. Don't miss the magic of a ride on frozen Lac de Joux ! Pleasant ending through La Côte vineyards until Nyon. Departure (Geneva-Nyon-La Givrine) and return (Nyon-Geneva) by train – schedule here. 102 km / +760 m / highest 1228 m / average 6%